Smooth customer experience with self-service
The Nordic energy company Gasum strengthens its digital service portfolio by introducing a modern customer portal for Gasum's Traffic B2B customers. The Customer Portal will provide B2B customers an overall and insightful view of their partnership with Gasum. Launching the portal will support Gasum's strategy of offering companies a low-emission fuel to improve the sustainability of the road transportation in the Nordic countries.
"Our business customers will benefit from the customer portal in the form of time savings and convenience. We want to provide straightforward digital interaction with us and enable easy access to up-to-date customer data in just one click. We will carefully listen to our customers' feedback and will continue developing the portal in the future. We're very pleased on how Roger Studio's team managed the intensive development project of the portal, and we look forward to continuing the excellent co-operation going forward."
Olli Paasio, Director, Traffic Finland, Gasum Oy
Customer and business

needs

as key drivers
Gasum needed a service for its B2B customers that would allow them to interact with their B2B customers in a digital channel and serve them better. Gasum Traffic Customer Portal was created as a solution to deliver a single contact point for their most important functions and all relevant information for their customer. The solution is a self-service customer portal that is functional in its basic technical principles and easily expandable to other Gasum business areas and operations.
Business objectives behind the development project were to reduce Gasum's customer services manual work and enable targeting the resources better where they create the most value by automating repetitive customer service tasks and processes. This enables their customers to handle their tasks with self-service processes by themselves and that creates customer satisfaction as well.
The portal needed to look like Gasum, so during the project, Gasum's Digital Style Guide was also designed and built, which can be used more widely in other digital projects and further work.
Customer key functions
- All in one place
We designed and built a modern and easy to use all-in-one platform for Gasum to deliver the services, have key functionalities, share content and communicate with customers. In the first phase, core functions related to the customer's basic use and account management, such as reports, invoices, prices, GasCard charge cards, personal information and company information, were selected for Gasum's customer portal.
The customer sees the prices belonging to him and attached to active GasCards on the website in real time as the information is retrieved directly from Gasum's database. From the page, the user can easily see the location of the nearest gas filling station. Clear contact information and a built-in communication channel enable customers to easily and directly contact Gasum's customer service by sending different requests directly to Gasum's ticket queue. The changes may be related to, for example, ordering new GasCards, updating your own information or a general contact request. These requests are sent into Gasum's CRM-system.
Admin functionalities allow resetting the password, display PIN for GasCards, add new users and update existing customer information directly in the portal or directly from the CRM system.
The portal already serves a wide group of users when it starts, with four language versions. And versatile authentication options increase ease of use. You can log in to the service either with a familiar e-mail / password combination or via social media authentication logins.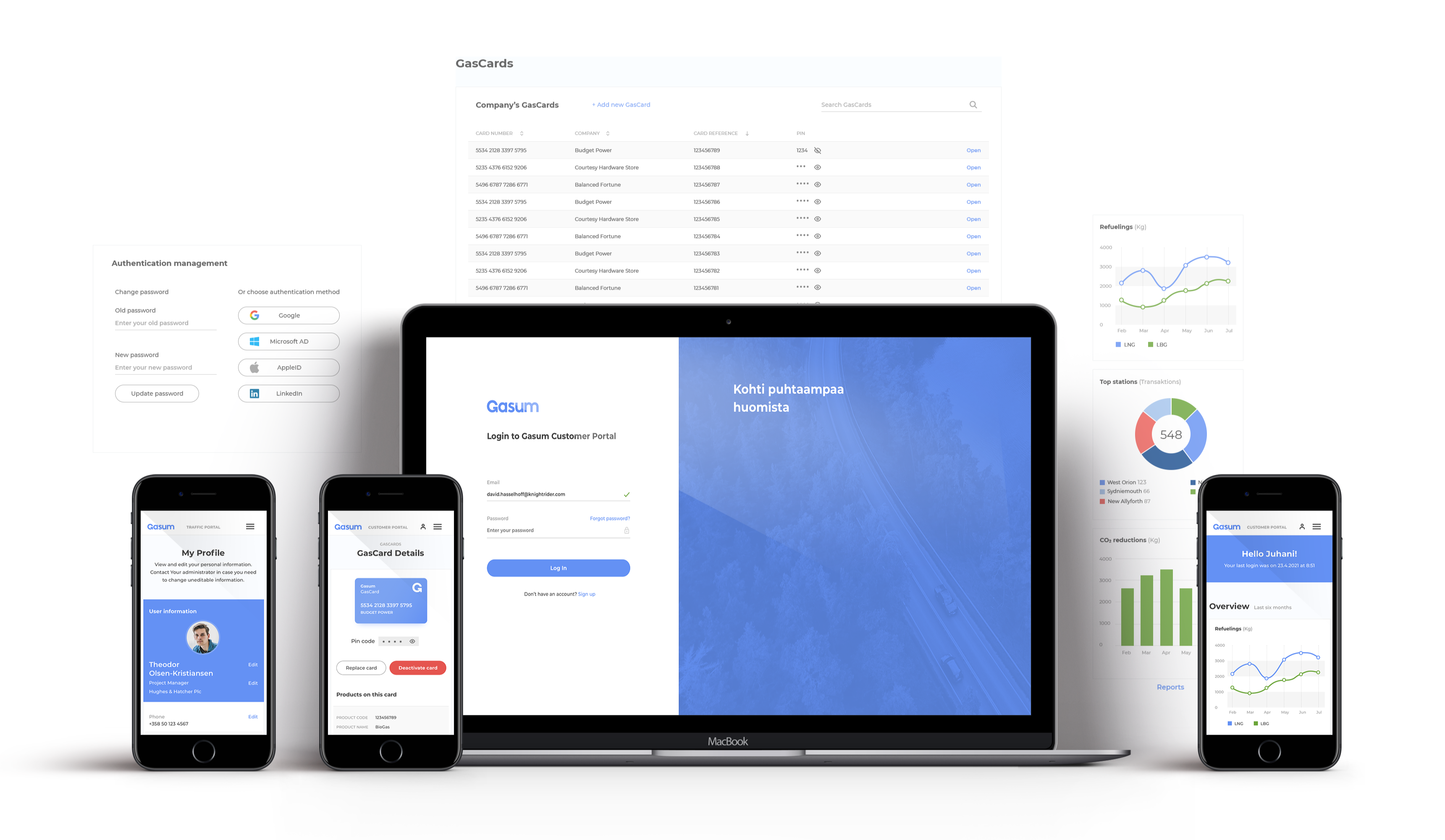 Our approach –

Combining user experience and

technology
Business and design principles
Gasum's strategy work and identification of development needs and ideas on customer journeys led to concepting the digital encounters and services Gasum wanted to develop. Roger Studio identified and concepted those, including the concepting of Gasum's customer portal. Portal was defined and described in more detail and visualized into a prototype. From selected features we created a detailed technical approach and specifications, taking into consideration existing technical infrastructure, data quality, technical restrictions, and possibilities to create more features in next phases. Visual designs were created in close co-operation with Gasum's key people and brand guidelines.
Technical set-up
Actual implementation project of the chosen MVP content was done using modern JavaScript, LESS.js (CSS preprocessor) MongoDB, graphic library and Meteor JS framework. Meteor JS was chosen for its ability to serve backend and frontend in one place, as well as its flexibility and big developers' community. Portal was deployed to Azure and is being monitored there. Several API calls were created enabling connections between portal and other systems.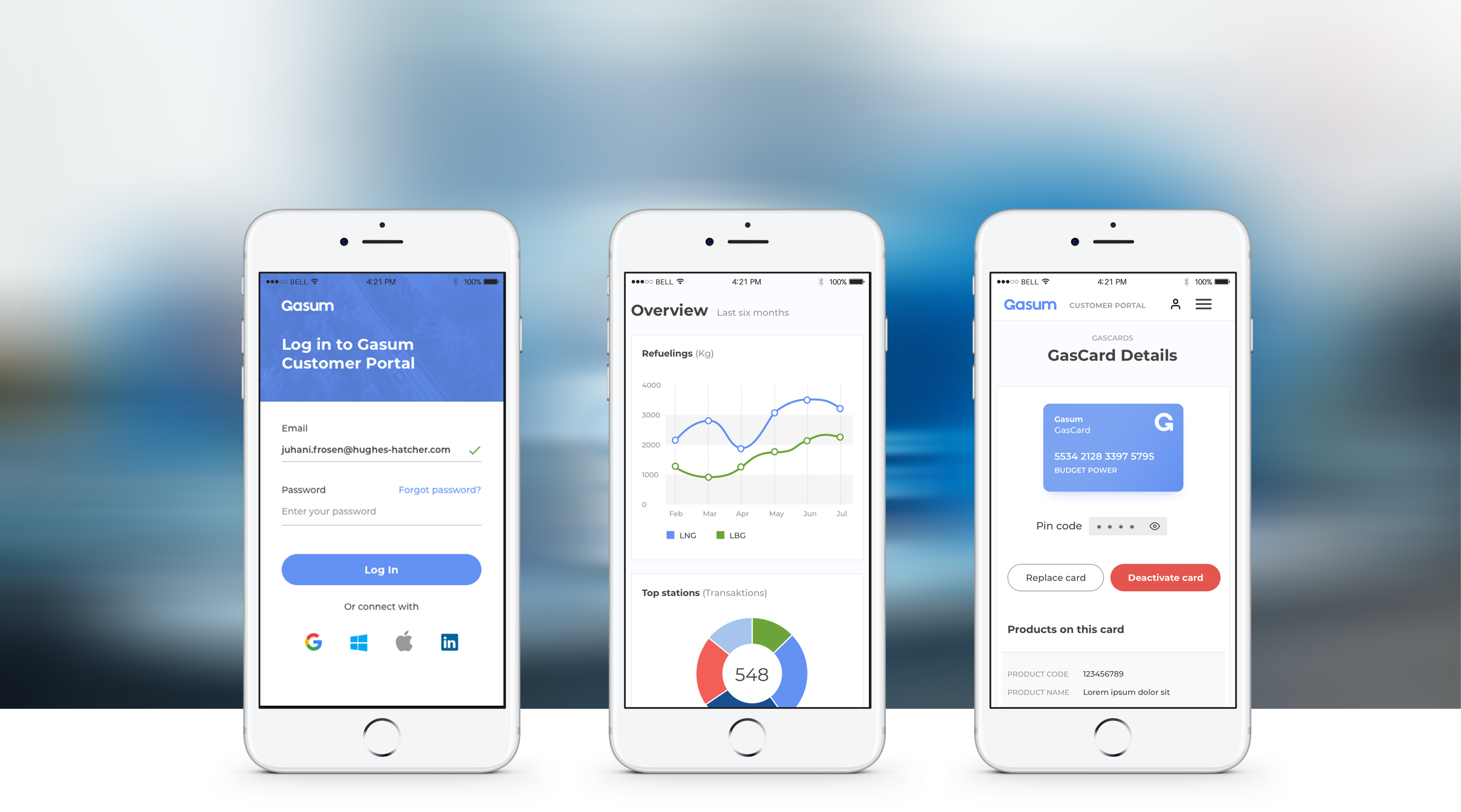 Business impact
Gasum Traffic Customer Portal was launched for B2B customers in April 2021 and the first feedback and user reviews have already been positive - the portal is easy to use and technically stable. According to the feedback, the service includes those basic functionalities from which customers feel that they are genuinely benefiting. The self-service model has reduced the manual work done by Gasum's customer service and allowed them more time to meet customers and deliver service in matters that are relevant.
The cooperation between Gasum and Roger Studio will continue after the launch as well. In addition to the implementation project, Roger is also responsible for the maintenance of the customer portal, ensuring automated monitoring of the portal, resolution of incidents and the progress of small development needs in the development queue.
Want to

know

more?
Would you like to know more about this case? Could this this approach work for your business needs? We'd love to tell you more about this case and our work. Feel free to contact us:
Terho Norja terho.norja@rogerstudio.fi +358 50 403 3395
Harri Hauta-aho harri.hauta-aho@rogerstudio.fi +358 40 513 9961
Send us a message
Ask us something or just say hello! We'll reply to your message as soon as possible. Have a good day!