SMS and WhatsApp

messages

as

part

of

your

HubSpot

customer

communication
Mobile Messaging for HubSpot is a Finnish HubSpot add-on service that enables you to extend communications via HubSpot to text messages and WhatsApp messages.

The service combines mobile communication into customer paths and can be used to send individual messages as part of a customer-specific workflow or target group-based communication in marketing campaigns.

Mobile Messaging for HubSpot allows you to reach recipients effectively. The service also enables two-way dialogue between your organization and the recipient of the message.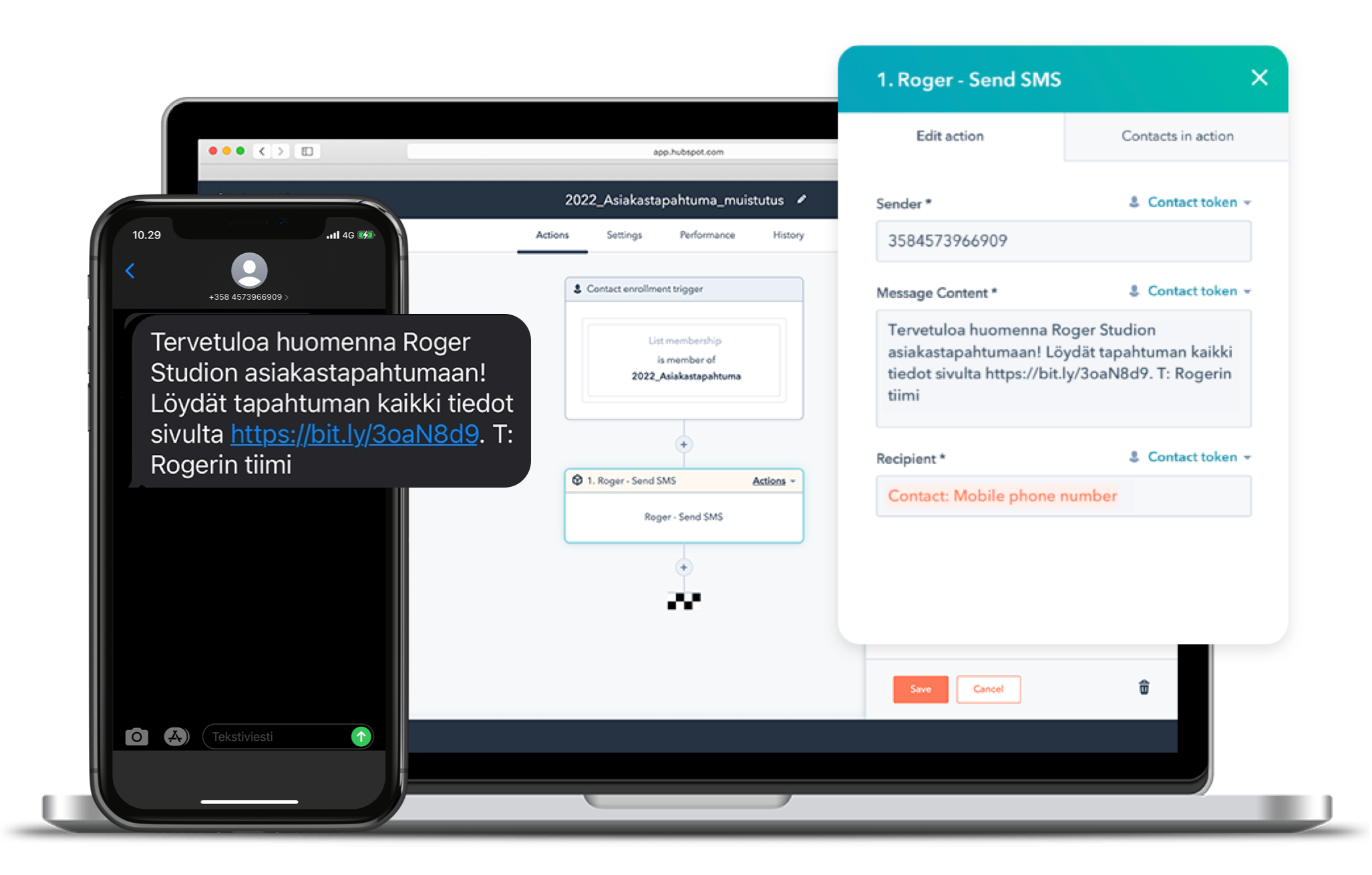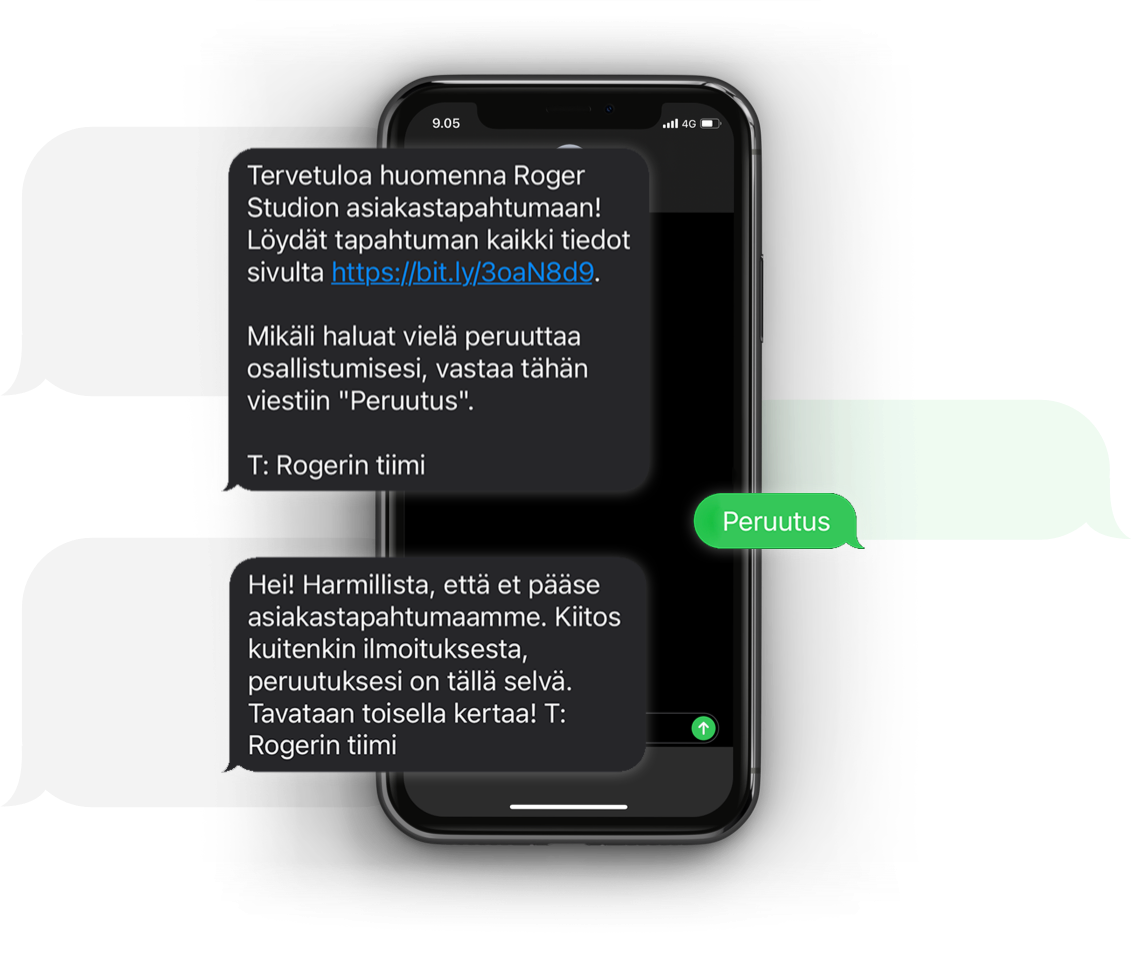 A clear and bold header
Reach recipients in an efficient way
A clear and bold header
Interacting with your customers
Send messages from the familiar HubSpot user interface
Send text messages and WhatsApp messages directly from HubSpot workflow.
Message tracking and two-way communication​
Create automation programs and follow-ups based on customer responses.
Secure communication
A service developed and produced in the EU and the data remains within the EU. The service meets GDPR requirements.
Reliable service providers​
Roger Studio is HubSpot's certified partner and Roger's partner Arena Interactive is responsible for forwarding the messages all over the world.
Easy deployment
Marketing team can take the service in use by itself. Roger Studio User Support is there for you if you need help.​
Risk-free pricing​
Predefined message packets (S, M, and L-package) ensure that budgeting is easy and the invoice doesn't surprise you.
Easy and affordable pricing
Choose the appropriate message pack for your organization
The pricing of the service is based on message packages available in three different sizes (S, M and L packages). Each package includes a 12-month license to use the service and a number of credits according to the package. If your message volumes increase along the way, you can always upgrade the message package to a larger size.
Service that scales according to your needs
If your organization's need for messages is greater than ready-made packages, there's also a fully customizable Enterprise service where the pricing is based on the message volume you use.
Why choose Roger Studio Mobile Messaging for HubSpot
According to studies, text messages are the best channel to reach the customer, as up to 90% of recipients read the message within three minutes of its arrival.


Text messages and WhatsApp messages are the perfect messaging channel for customer service, marketing and sales.


The service is set up effortlessly in a few minutes.


Get a reliable and GDPR-compliant mobile messaging service as part of HubSpot's workflow interface without any coding.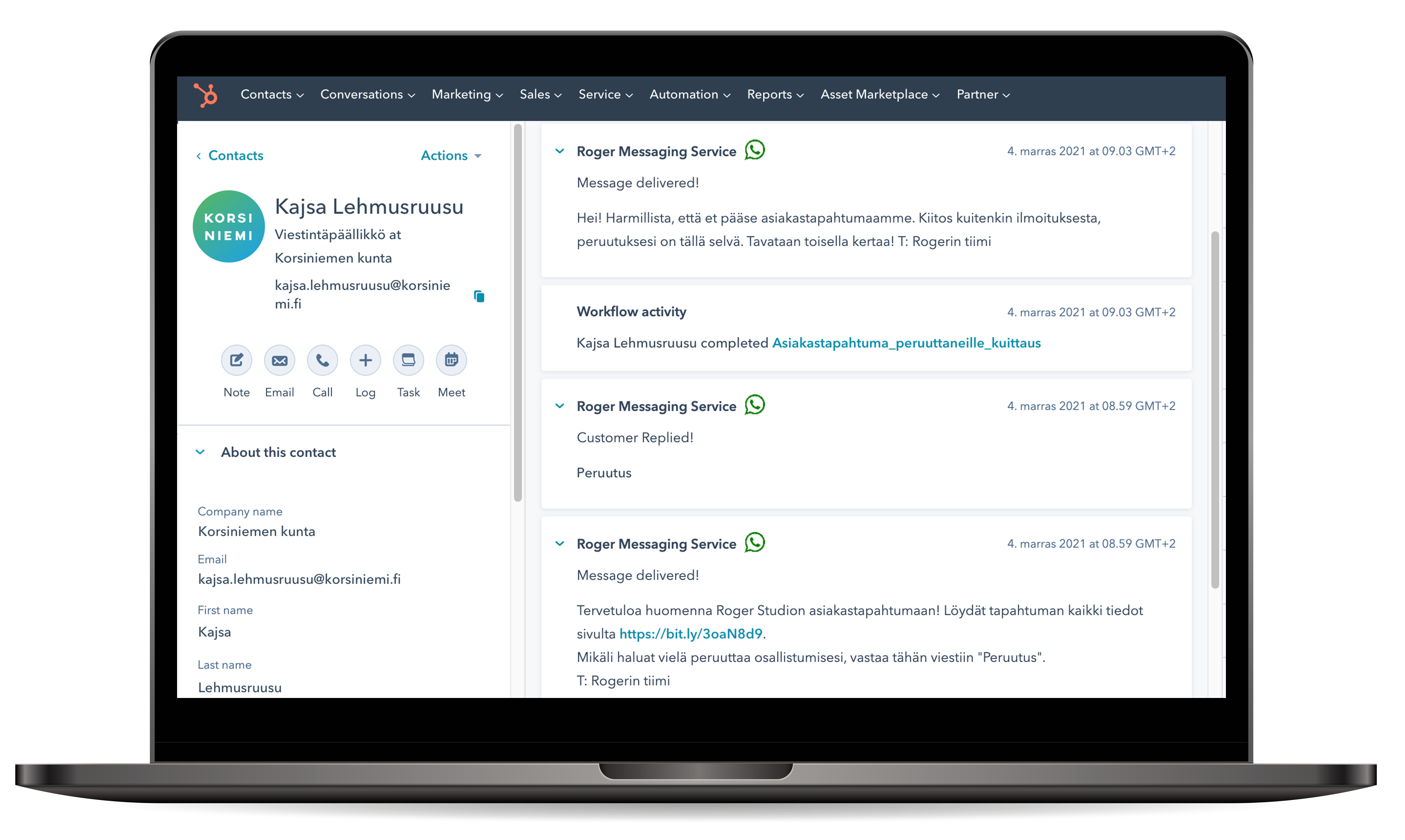 FAQ
What is the benefit of the service?

Mobile Messaging service allows you to send text messages and WhatsApp messages via HubSpot.

You no longer need a separate service to send mobile messages or a campaign-specific order from an external service provider, but you can manage the email sends yourself in your HubSpot. You can use the familiar HubSpot user interface to track the send messages and any replies to them. You can also create campaign activities based on sent messages and customer responses.
Can I send text messages and WhatsApp messages directly from HubSpot workflow?

Yes, you can. SMS and WhatsApp messages can be sent directly from HubSpot workflow in the same way as sending emails.
Can I try the service before purchasing a package?

Anything is possible. Please contact us via contact form and we'll see what is the best way forward.
Can I personalize mobile messages?

Yes, you can! You can personalize messages with HubSpot personalization tokens.
Do you want to discuss the service in more detail?
You can contact the persons below directly or submit a contact request to us.
Ask more about the service